Featured Artist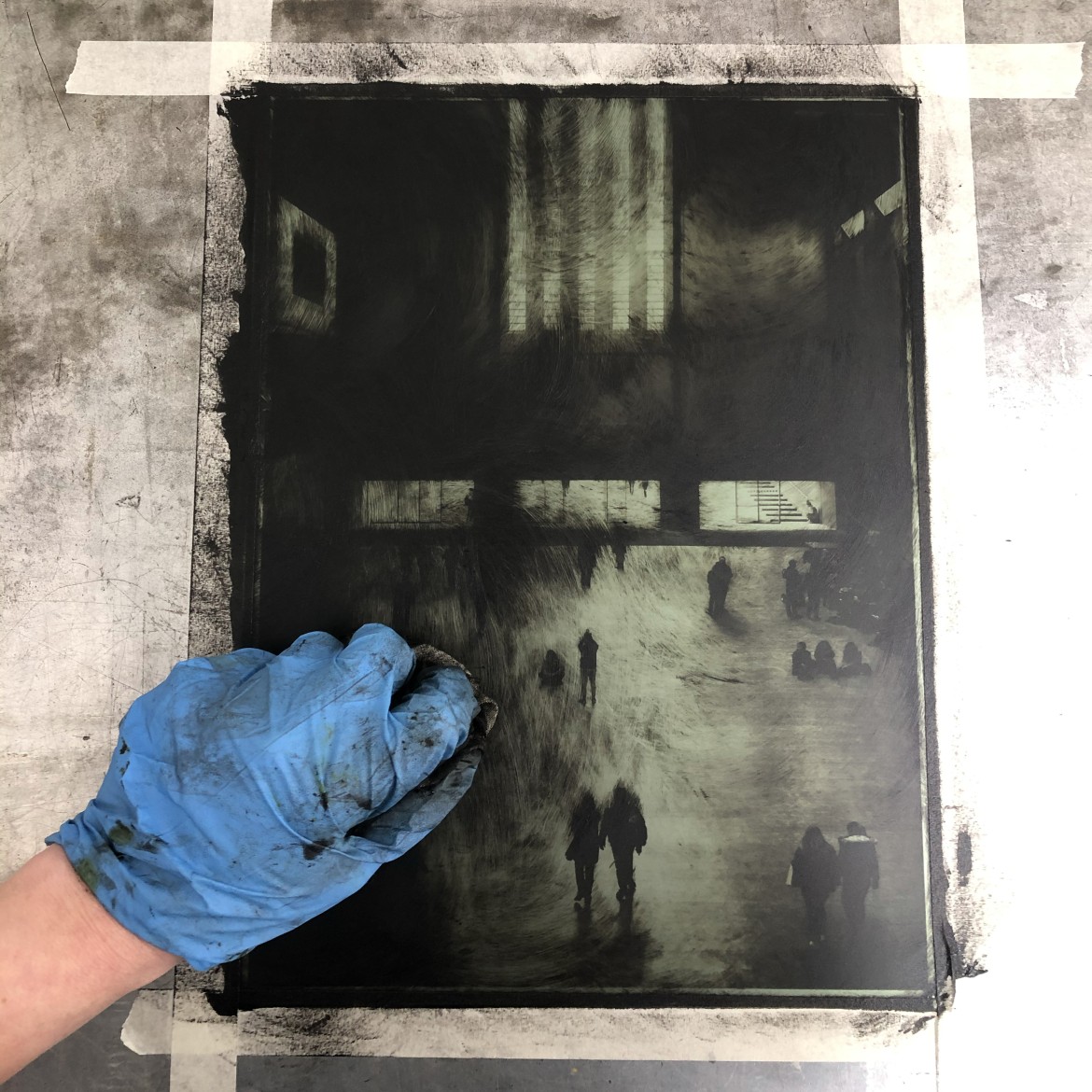 Vanessa Short
Vanessa Short is a London-based artist with roots in north-west England. She uses photography, written texts and audio to document social history, specifically the transformation over time of industries, communities and the environment.
Her work incorporates old and new processes: images captured with a digital camera emerge as photogravures*, using a long-established printmaking technique that has been revived thanks in part to the advent of digital technologies.
Counting on the Planet, ACE funded, is presented as short texts superimposed over photogravures. By overlaying visually arresting images with statistics about environmental destruction, it aims to confront viewers with unpalatable facts through easy-to-understand analogies.
The prints in Counting on our Planet feature ink made with soot from local chimneys. This ink allowed Vanessa to orchestrate a new life cycle. Soot (a residue from burning coal formed of decaying wood over millions of years), when transferred from photogravure plate to printing paper (which also originates from wood), returns to its origins.
*Photogravures, or 'photopolymers', are created by exposing thin, light-sensitive polymer-coated metal plates and printed transparencies to ultraviolet light. The ultraviolet light damages the polymer in a controlled way, resulting in an etched surface that can be inked and put through a printing press.
Featured Banner:
Breathable-plants – looks at the positive effect plants have on our home, cleaning the air of chemicals and helping our mental health.
Carbon-Whales – looks at the accumulation of carbon in their bodies throughout lifetime which sinks onto the ocean bed when they die.
Christmas cards – On average, each person in the UK will send and receive 17 Christmas cards, It takes 1 tree to make 3,000 Christmas cards. That only enough for 176 people to send cards to their loved ones.
London Tree – According to a UN definition, London can be classified as a forest, its 8.4 million trees – almost one for every person – adorning and detoxifying this great city. Yet 9000+ LONDONERS die early every year because of air pollution
mobile trees – One billion+ phone cases thrown away globally each year! You could cover an area the size of Epping forrest 2.5 times in the average persons life time.
Find out more