'Before seeing Christopher's print at the ELP December show Festival of Print, I was unfamiliar with his work, although I had been struck by the image featured in the catalogue. My first impression on seeing his large and colourful print at the Private View, was one of delight.
Looking at prints in an exhibition can be quite exhausting as one is always trying to concentrate and isolate the image in front of you without becoming distracted by the ones next to it. This was not a problem with Christopher's work which held the eye, looking joyful and animated. As a printmaker, I know how easy it is to become obsessed with the technical demands of the work, but this print looked experimental and bold. For me it had the same kind of freedom of expression and abstracted energy that I associate with the second generation of abstract expressionists, artists like Sam Francis.
I had not realised that Christopher had already become a member of PMC but am delighted that he can now enjoy an extra year – free of charge. I look forward to meeting him and seeing his next prints.'
Venessa Pugh PMC Committee Member 2022
MA Fine Art graduate from Central Saint Martins, University of the Arts London.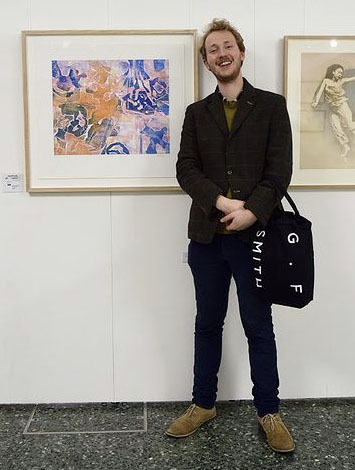 BA (Hons) Art & Design graduate from the University of Leeds
Instagram
christopher.pearson.artist@gmail.com