My name is Clare O Hagan, a visual artist and activist, living in London, England.
On June 19th 2020, I will be transformed into Keto –a Greek Goddess of the Sea. Keto and I were due to be on her island home of Paros, Greece on that date where a big party and exhibition celebrating her awakening was planned,  We are now trapped in London because of the coronavirus pandemic. However, June 19th  marks the first steps of an unexpected, unplanned odyssey – as we both begin a journey over land and sea, homeward to Paros. The source of the Fleet river at Kenwood in Hampstead Heath where I often walk, will be the starting point. From there Keto will journey south following its route to the River Thames at Blackfriars in London. We may be in London some time but from here we will venture onwards to Greece via Paris and Budapest arriving in Paros this time next year.
On her journey Keto will wear a blue costume and mask. The costume is made from a cotton fabric, printing with my original artworks, using the cyanotype process. As Keto will be wearing a mask and gloves, walking alone and keeping a safe distance, it's an ideal way for people to experience art outside of an exhibition space at a time when access to galleries isn't allowed. With lockdown more people will be able to encounter Keto and hear her story. That's not to say I am not deeply disappointed that the work and exhibition I've been planning for the last three years is cancelled, and I won't get to swim in the Aegean Sea.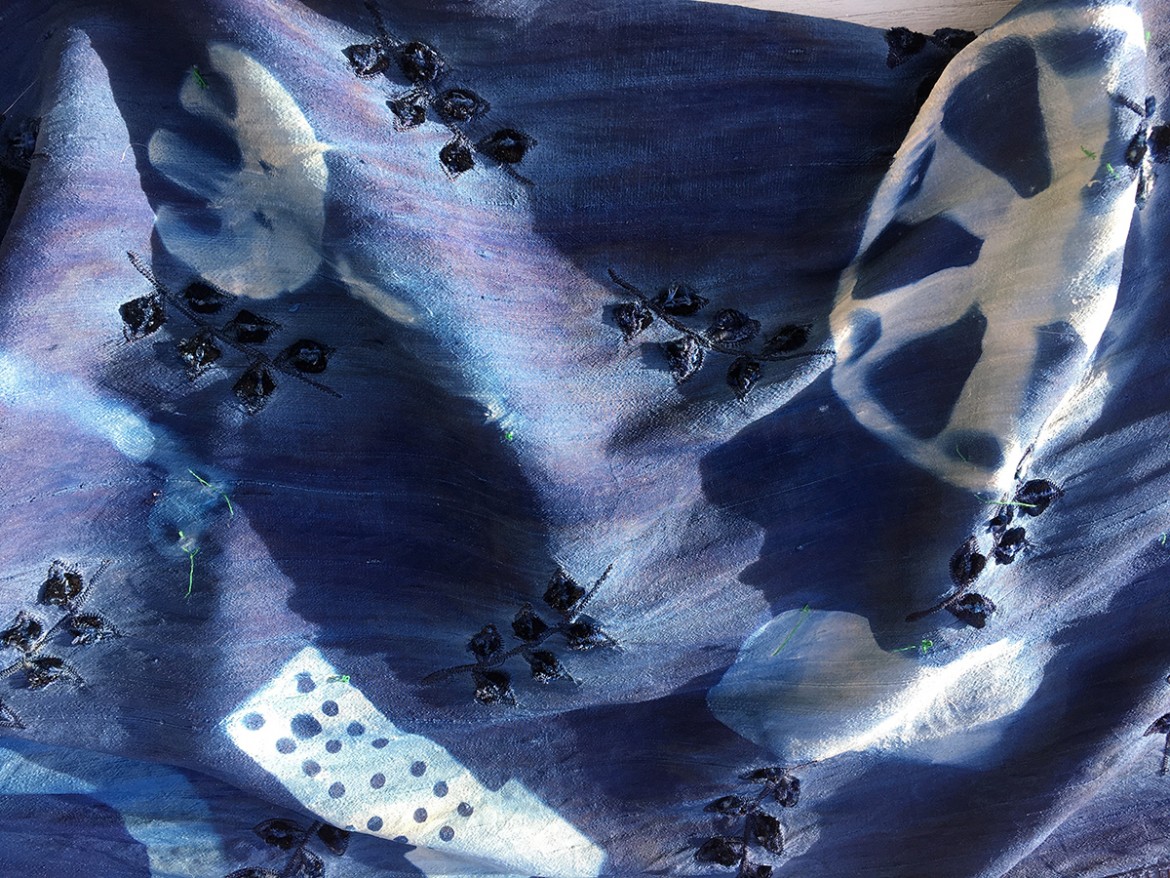 The Keto narrative is sited firmly both in the Aegean, on the island of Paros, and in the land of Greek legend. Keto is a very powerful Greek Goddess, the daughter of the Titans and mother to the Gorgons.
I awakened Keto to save the sea from drowning in plastic. This self initiated and self funded environmental project began three years ago after seeing increasing evidence of plastic pollution along the shoreline. It is reported that the oceans are full of floating plastic debris with 6.3 billion tons of plastic waste generated globally in 2015 (BBC News Item).
That's an overwhelming statistic. Many environmental groups exist to help clean our seas from plastic pollution but we can still can feel overwhelmed by the enormity of the task. It's daunting and we need help. By rebirthing the myth of Keto my aim is to provide a beacon of support to individuals and organisations who care about the seas.
One way to encourage engagement is to tell stories and use images. So, thanks to the platform provided here at the Printmakers Council, I will tell my Keto's myth-making creation story and examine a selection of the 50+ series of artworks: assemblage, objects and prints created over a period of 3 years on Paros, and the UK.
Keto came to me one morning in a fit of anger, whilst sitting on the sea cliff edge, in a spot where I watch kestrels fledge on the island. I was saddened and shocked to see the beaches so polluted with plastic waste on the walk to the cliffs. Looking out to sea, surrounded by the rubbish collected on my walk, I imagined that being in the home of the Greek Gods, there must be one that could give us a hand now to sort out this plastic pollution. I went off to find one and after some research I discovered Keto – the Greek Goddess of the Dangers of the Sea.
With plastic debris gathered from the beaches around Parikia, and a found mask-like rock, I constructed an assemblage in the shape of a figure. Keto The Goddess of the Sea was re-born in the Environmental and Cultural Archeological Park, Paros, Greece on the morning of 27th June 2017.
I wrote at the time:
"Mythological creatures usually have a fantastic appearance. Keto looked good in the landscape of rock and sea, resembling a folkloric, iconic object. Keto belonged there, she cast shadows and shimmered simultaneously. The shape of a woman is intimated, but it is her face we are drawn to. Her eyes animated by the movement of changing clouds and waves on the sea. I love her."
That year, I had brought with me to Paros, some packets of A5 size cyanotype paper to experiment with. It was a new process to me, and with guaranteed sun, an ideal place to start. I used the paper to document my findings – plastic objects found on the shoreline – and made photograms (a photographic image made without a camera).
On return to the UK, and reflecting on Keto's life I decided to give Keto more substance, to bed her more deeply in the land of her birth. I set about creating a mythological past for Keto – an origin story, describing it within a series of prints. Aesthetically what I hoped to achieve within the prints was a sense of scholarly study of an icon which you would see in material in a museum or place of learning. I studied etching at Morley College and took further one to one tuition with Michelle Avison at Slaughterhaus Print Studio in South London. I am very fortunate to have been given space for a printmaking studio in Derby and it's there that I made a series of black and white etchings, referencing imagery sourced from Paros. We see Keto's image embedded in the footpath beneath our feet, enmeshed in a window in Parikia town, and enclosed in a niche contained in an ancient Greek artifact.
In addition to a series of iconic portraits of Keto and her supporters, further etchings feature objects found on the shoreline. One entitled -Krios Beach – featured in the PMC's Journeys Exhibition, PMC in March 2019.
In the Summer of 2019, on my return to Paros, Keto was very much a fully fledged ancient Goddess. I turned my attention to producing artworks that would show clearly that most plastics don't decompose. This time, I brought with me cyanotype chemicals so that I could print on fine art quality cotton paper and stone. After many experiments, I perfected the  technique needed to adhere a cyanotype print onto stone. My aim was to make artifacts that simply could never exist – a plastic object fossilized. The  artwork
"A series of unimaginable futures" – cyanotype on stone – featured in PMC's Land, Sea and Sky exhibition at The Ropewalk, Barton upon Humber October, 2019.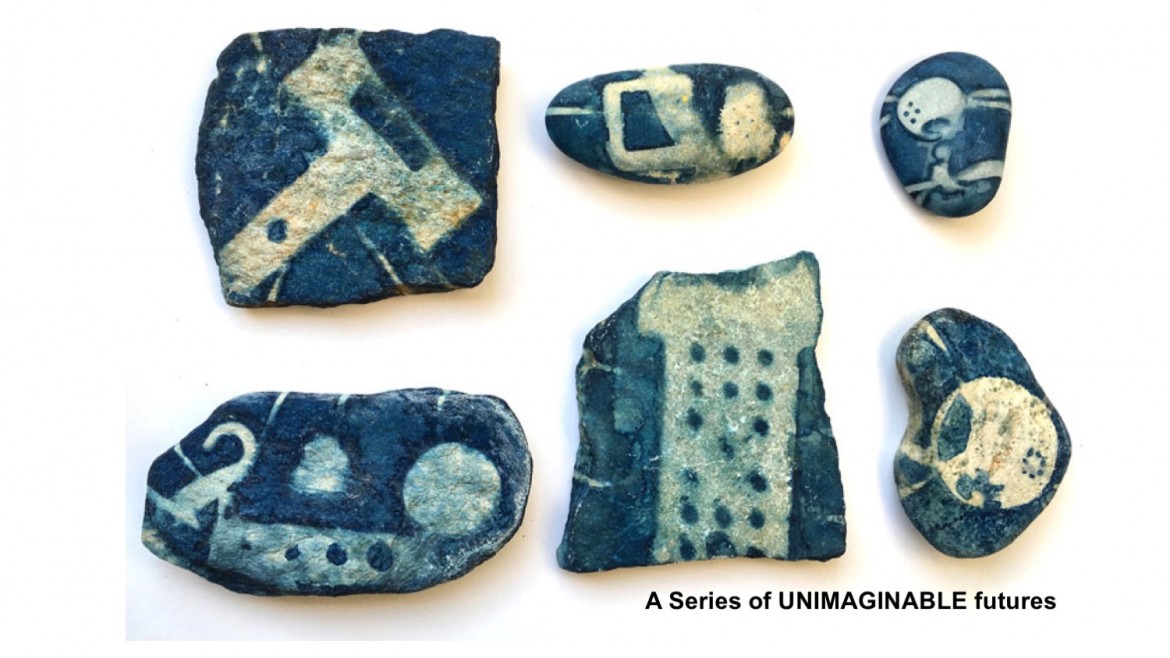 Continued study and learning is an integral part of my professional practice, and with Paul Ellis at Photofusion in Brixton, South London I was introduced to further alternative printing methods in addition to cyanotype –  Salt Printing and Kallitype print processes. Using salt and sun to produce prints, I believe, reflect their source – an island in the Aegean sea.
In terms of the making of artworks I tend to forge ahead unfettered by constraining
conventions.  Combining cyanotype, etching with chine collee methods of printmaking result in a series of one-of-kind prints. Assemblage, found objects and prints make manifest the myth of Keto, her environment, past and present.
With origin stories, the expectation is that Keto would go on a journey and fight battles. We are delighted to be partnered with "Clean Blue Paros" whose aim is to make this Greek island the first plastic-waste free Mediterranean island and a global leader in the fight against plastic in our seas.
Keto is already visible, being featured online in a portfolio of images in Urbanautica's  2020 SACRED. THE EXPERIENCE OF BEYOND. (Urbanautica is an independent publisher working on photography, visual anthropology and cultural landscapes).
In March 2020 I presented a paper to The Association for the Study of Women and Mythology ASWM National Conference. It's title:  "Promoting engagement on actions to halt the destruction of our oceans:  Using myth-making – Keto – Goddess of the Sea as a model."
In ancient Greek mythology Keto is the mother of the Gorgons. They have considerable power, and as with many strong women have been given a bad press, being seen as
vengeful monsters. My Keto is different. I endow her with a lot more than three graces.
Keto is powerful, resourceful, has courage, endurance, certainty and vigour and now in response to the coronavirus pandemic she has legs.
Keto with Clare O Hagan
June 19th 2020
Route of the Fleet river
Hampstead Heath to London Blackfriars
@Clare_O_Hagan